When it comes down to it, your wedding isn't about the dress, the flowers, or even the venue. It's about a day that feels authentically you. No matter how stylish, expensive, or exclusive, your wedding isn't reaching its full potential if your reception doesn't bring new and old friends together. And let's be honest; your wedding menu can be so much more than choosing chicken or fish from a hotel caterer.
One thing we know for sure about BBQ: it's about togetherness. There's something about enjoying slow-cooked food together that just makes memories. We can't think of anything better than BBQ for a wedding.
We've got answers to some common questions about choosing a BBQ wedding menu.
What does a wedding caterer do?
We provide full- and drop-off service depending on the feel of your wedding, with all-events attire. Whether you're planning a traditional large wedding or a casual backyard ceremony, we'll work with you to make sure the catering suits the mood.
Triple G Catering can arrive in our custom smoker trailer and prepare food on-site or drop off meals and equipment for your guests to self-serve during the reception. And we'll work with you or your event planner throughout the planning process to make sure your reception lives up to your dreams.
What's on a BBQ wedding menu?
Guaranteed choosing a BBQ menu for your wedding means no one will pick at their dry chicken during the toasts. Our standard menu includes some mouth-watering favorites:
Smoked brisket
Steak
Pulled pork
Ribs
Poultry
One of the best things about a BBQ wedding is the variety you can offer your guests. Besides the main dishes, we provide ample sides:
Fresh fruit
Cornbread
Grilled vegetables
Triple G Corn
Get in touch with us to plan your BBQ wedding menu. If there's a Texas dish you love, we may be able to accommodate special requests, including your guests' unique dietary restrictions.
Where do you source your ingredients?
Your first question for any caterer for any event should be about their ingredients' source and quality. At Triple G, we use meat straight from the butcher, cooked slow and low in our custom smoker trailer.
Fresh, high-quality ingredients deliver vibrant flavors that can set the tone of the entire reception. Nothing feels better as a host than your guests raving about the meal. Your only concern will be to make sure people don't eat so much they can't dance.
Is BBQ too messy for a wedding menu?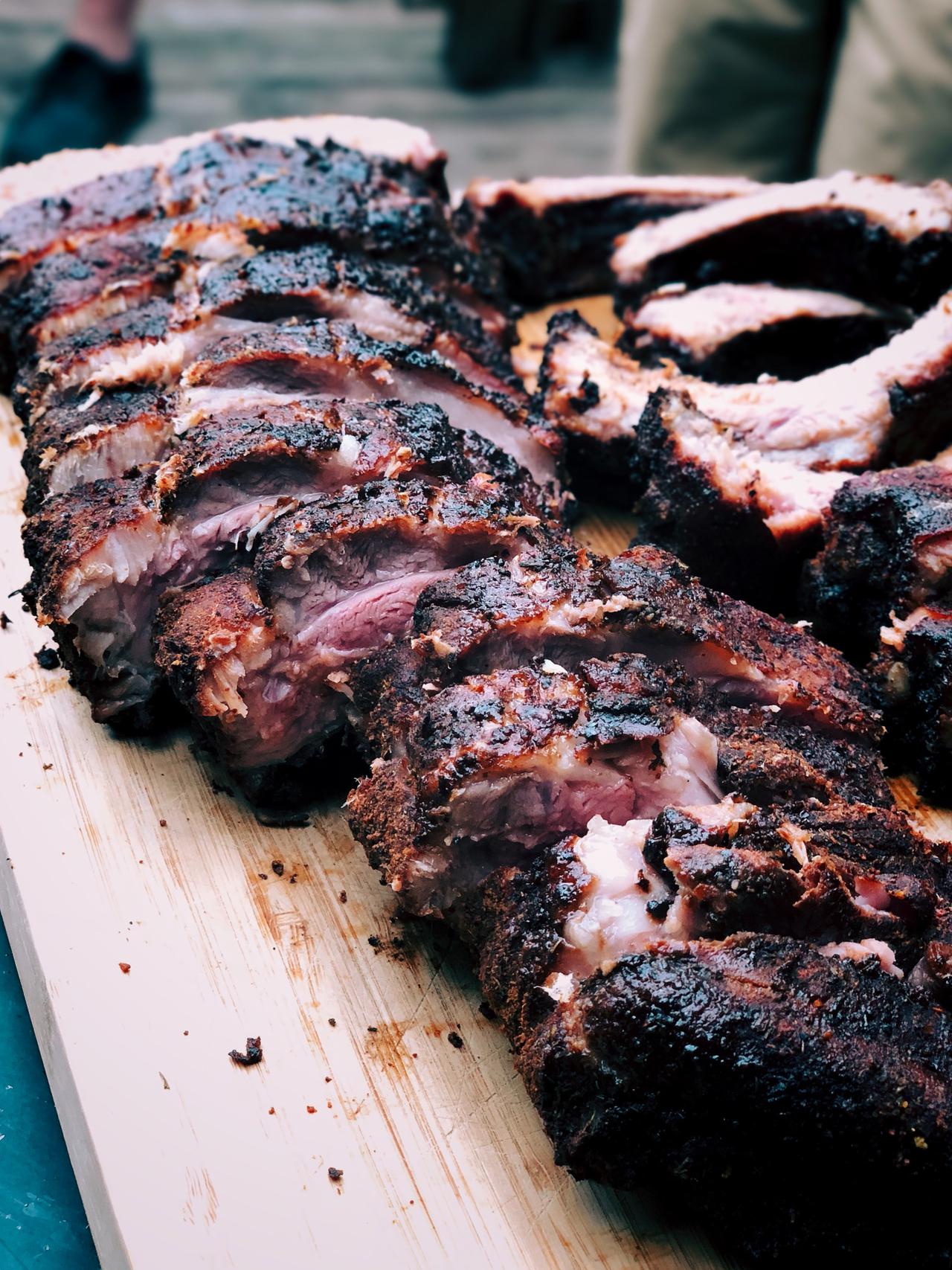 Nope! No, really. We understand that some people might plan their reception with foods that don't stain (meaning, bland), but we do things a little differently in North Texas. Sure, you might need some bibs for the kids and a pile of wet wipes, but we think it's worth it for a great meal with the people you love.
The thing that sets BBQ apart from other (boring) wedding menus is that it's filled with heart. Your reception is about more than just feeding people. It's creating a lasting memory that you and your partner will have for the rest of your lives.
Plus, you'll have the perfect excuse to get BBQ on your anniversary.
We can help you plan the perfect wedding menu.
Whether you're a lifelong Lonestar or just a die-hard BBQ lover, we can help you plan the slow-cooked menu of your dreams for your wedding day. We're experienced in catering everything from backyard parties to large-scale receptions. With Triple G Catering planning your menu, you can relax and enjoy the reception. Don't worry; we'll set some ribs aside for after the guests leave.